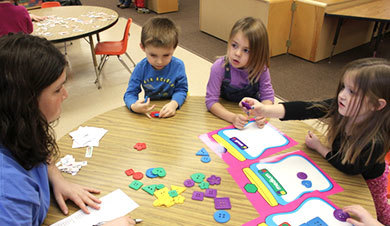 EHOVE Career Center provides early learning and growth opportunities for children ages 3-5 years.
EHOVE's Child Development Center adheres to the highest standards of nurturing, guidance, teaching in a safe, secure, and clean environment. The center is licensed by the Department of Education.
The Early Childhood Education students plan and implement developmentally appropriate activities for the children under the guidance of the Early Childhood Education Instructors.
For more information, please call 419-499-5470 or email Joan Lander at JLander@EHOVE.net.
Fee Schedule
An application for the school year must be signed prior to being assured a space in the Child Development Center.

Tuition is due on the first day of the month.

Discounts for 2nd and 3rd siblings.

This is a two year program at a maximum.
AM Preschool
8:30-11:30 am, 5 days/week

September-April, $185/month

May is free if you fulfill your contract
Full Day Preschool
7:30 am-3:30 pm, 5 days/week

September-April, $300/month

May is free if you fulfill your contract