SAFE SCHOOL REPORTING SYSTEM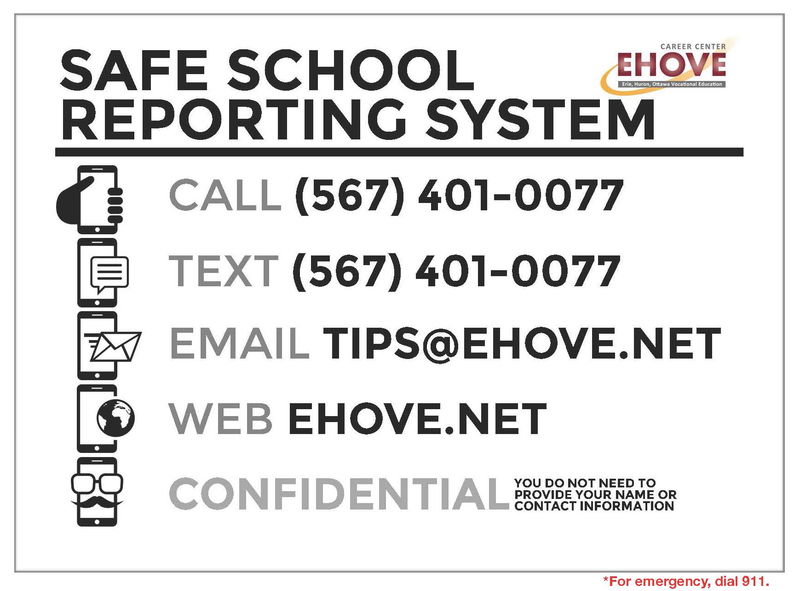 EHOVE'S SAFE SCHOOL TIP HOTLINE
Through a collaboration between the EHOVE Safety Committee and the Erie County Sheriff's Office, EHOVE Career Center offers the Safe School Tip Hotline. This service provides a variety of different avenues in which students or parents can alert EHOVE administration and the Sheriff's Office to a variety of different problems including crime, bullying, cheating, suicide, possible threats and more. Please note that all of this is being implemented with strictest of confidentiality standards.
The system works in a few unique ways, first being a private phone line that a student or parent can either text or call (567) 401-0077. If the student or parent chooses to call and leave a message, they will be greeted with a recording stating that they are not required to leave any contact information. Next, the messages are instantly transcribed and sent to every administrators mobile device, computer and cell phone. They are also provided with the actual voice message in case any clarification is needed. The same goes for if the student or parent chooses to text message the system. When the administrators get an alert, all they see is the message and the time that it was received
The next way the student can provide us pertinent information is via a private email address (tips@ehove.net). This email address works the same as the text/voice messaging and is instantly sent to all of the devices of our administrative team. Again, all they see is the message and the time that it was sent. All information received is confidential.
Lastly, we have a form that can be submitted. It allows the user to enter any information they feel the team needs to know. At the bottom of the form the user will notice a spot to enter their name and phone number. EHOVE would like to stress that this is NOT A REQUIRED field, and allows you to send the form without entering/identifying any personal information. Throughout the country, schools are implementing different and unique ways that students can inform administrative teams of possible safety concerns, threats, bullying, cheating, etc. EHOVE is proud to become a part of this new and innovative way for students to have their concerns voiced without feeling they are "snitching" or "tattling." The new features allow all students to help the school provide a safer atmosphere and positive environment in which to learn and prosper.
TITLE IX & SECTION 504 GRIEVANCE OFFICER
Terri Jones, Special Education Supervisor
316 West Mason Road, Milan, OH 44846
(419) 499-4663 x337