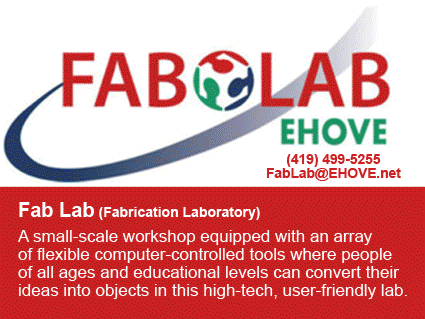 A Fab Lab (fabrication laboratory) is a small scale workshop that houses a collection of commercially available computer controlled machines and tools that allow the user the ability to create just about anything. Fab Labs can be found all over the globe, from rural India to inner-city Boston. They allow people of all ages and backgrounds to create, invent, experiment, and learn. Get more information about EHOVE's Fab Lab.
The EHOVE Fab Lab offers time for the public to come in and use our equipment. The Fab Lab is a highly creative do-it-yourself atmosphere where users learn the skills to complete their own projects. A lab tech will be present during Public Lab times to assist with machinery/software as available. However, it is highly recommended that users take training courses to learn the machines and processes (certain processes require certification). EHOVE offers high school courses and Personal Fabrication Adult Ed classes (open to the public) that teach students proper usage of the equipment thru hands-on projects.
April 2022 schedule:
Wednesdays 4/6, 4/13, 4/20, 4/27 from 4:00 - 8:00 pm
May 2022 schedule:
Wednesdays 5/4, 5/11, 5/18, 5/25 from 4:00 - 8:00 pm
Subject to change. This page will be updated, but feel free to call x255 to verify our open hours anytime. If EHOVE is closed (inclement weather, holidays, etc.), the Fab Lab is closed.
For questions, contact Fab Lab Coordinator Noah Rasor at NRasor@EHOVE.net.
We're helping today's students become tomorrow's designers, makers and innovators by giving teachers the ability to provide their students with the knowledge and understanding to compete globally.
The Fab Lab program was started in 2001, in collaboration with the National Science Foundation in Washington, D.C. and the Center for Bits and Atoms (CBA) at the Massachusetts Institute of Technology (MIT). They were exploring how information relates to its physical representation (blueprint to prototype), in the electronic age and how local communities can be powered by this new technology.
Users all over the world have used Fab Labs to create things based on their individual needs. Such projects vary from GPS enabled sheep collars that help shepherds in Norway keep track of their flock, to CNC routed wi-fi antennae that are bringing the internet to remote areas that have no other way to access the vast amount of information much of the world takes for granted. Unlike typical products that are mass-produced, Fab Lab products are created for a specific individualized purpose to the creator. This revolution in manufacturing is allowing common people to fabricate, test, and improve products without the need for large-scale, expensive factories.
The Fab Lab is running an Adult Ed class called Personal FAB-rication, which introduces students to many Fab Lab processes through project-based learning. It will introduce the student to laser cutting and engraving, vinyl cutting, electronics, CNC machining, and other rapid prototyping processes. The latest class information is listed in the Adult Ed Catalog.

We also have a similar class available to EHOVE High School students, which is available to students from any program.

We run a couple different camps in the summer for children (with projects ranging from electric vehicles to R/C airplanes), as well as a Saturday Youth Enrichment program in February.