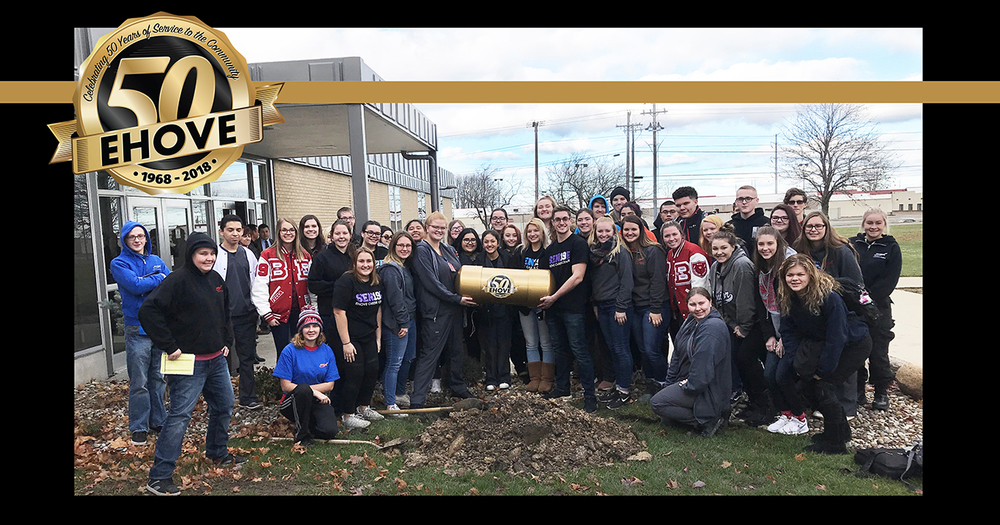 EHOVE Time Capsule
Kendra Ward
Wednesday, September 11, 2019
The last time that EHOVE buried a time capsule, it was 1987, the era of big hair and metal bands. When the plastic storage container was unearthed in 2013, it was a bit of a disappointment. Water had seeped in through a crack, so pretty much everything except a plastic Garfield didn't survive.
As part of the school's 50th Anniversary Celebration, a new time capsule has been buried near the east entrance of the High School Office Building. As a Student Council project, English teachers Deedra Fife and Karly Garcia led the effort of gathering this capsule's batch of items to represent the students, staff and school in 2018.
Photos, signed t-shirts, technology items, patches, hair curlers that light up, a yearbook, and several other items from the school's variety of career tech programs made the final cut. The original Garfield also joined the new items in the new time capsule.
To make sure this time capsule's contents are intact for the next opening in 2028, the new time capsule is made of PVC pipe with capped ends sealed on tight. It also needed to look great on the outside, so Collision & Refinishing students painted it a brilliant gold and placed the official 50th Anniversary seal on the exterior.
Staff and students gathered for the official time capsule ceremony on November 20. After a quick overview by Principal Erika Beckman, the group met outside to place the time capsule in its new home until 2028.