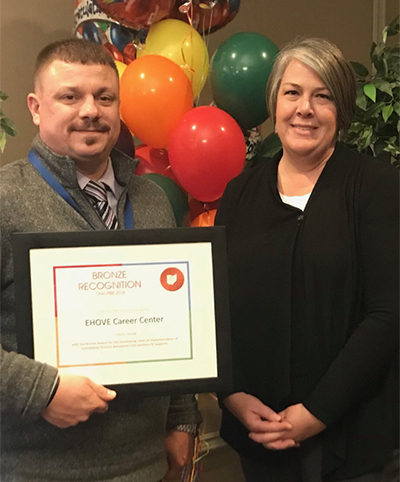 Success with PBIS
Kendra Ward
Wednesday, September 11, 2019
EHOVE has found success with an effective tool called Positive Behavioral Interventions & Supports (PBIS). The system is designed to improve student behavior and increase student achievement through the use of positive reinforcement for appropriate behaviors. Expectations are integrated into the campus culture and a framework of rewards and consequences creates a positive environment for students and staff.
The school's PBIS team created EHOVE Earnings, certificates distributed to students displaying good behaviors. The certificates are redeemable for a variety of items like a healthy snack to services in EHOVE's program like an oil change or hair cut.
EHOVE was awarded a bronze level recognition by the Ohio Department of Education's Ohio PBIS Network, the highest award a school may achieve in its first year of the program. Assistant Directors Elizabeth Becher and Charlie Warthling accepted the award on behalf of the team at the annual PBIS Recognition Showcase in Columbus.
To achieve the award, the school was tasked with having easily identifiable characteristics and being consistent in its methods of:
maintaining organized team-based planning
maintaining high levels of administrative involvement and support
systematically collecting, reviewing and applying data as a problem-solving process
After its first year of implementation, EHOVE's team reported:
Staff had more than 10,000 positive conversations with the students
83% of students were recognized for positive behaviors and redeemed their EHOVE Earnings certificates
100% of teachers, secretaries, cafeteria and administrative staff participated in PBIS
Overall discipline was down 27%
#EHOVEpbis