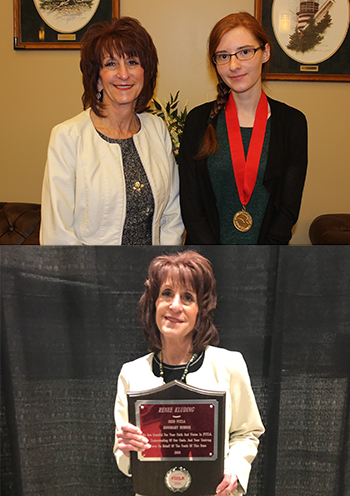 Two Awards, One Instructor
Kendra Ward
Wednesday, September 11, 2019
What may seem small to you, may have a big impact on others. Renee Kluding is EHOVE Career Center's Early Childhood Education instructor. Her actions, big and small, have made a difference that have recently garnered an honor from a student and another from a student leadership organization.
FROM A STUDENT:
Early Childhood Education student Miriam Delp is one of the top 10 students in the Danbury HS Class of 2018. Each year, top 10 students in Ottawa County schools are invited to attend a banquet hosted by the Ottawa County Board of Superintendents.
Each student has the opportunity to recognize an honored educator who has made an impact on his/her education career. Delp chose Kluding, who has been Early Childhood Education instructor for her junior and seniors years at EHOVE.
"She has always been there for me and all of her students," said Delp. "She supports all of her students and always listens to what every one of us has to say. If you look even a little upset, she'll put her hand on your shoulder and ask if everything is OK."
"I am humbled to be nominated by Miriam for this recognition," said Kluding. "It has been a honor to have Miriam as a student in the Early Childhood Education program. I have had the privilege to nurture Miriam's natural talents as a teacher for young children and watch her grow in many different areas. I am excited to see where this next adventure will take Miriam as she graduates from high school."
"It has been a privilege to be one of her students, and I will treasure the two years I had under her tutelage for the rest of my life," said Delp.
FROM A STUDENT LEADERSHIP ORGANIZATION:
Ohio Family, Career and Community Leaders of America (Ohio FCCLA) awarded Kluding with an honorary membership, for her outstanding contributions.
The mission of FCCLA is to promote personal growth and leadership development through Family and Consumer Sciences education. Focusing on the multiple roles of family member, wage earner, and community leader, members develop skills for life through: character development, creative and critical thinking, interpersonal communication, practical knowledge, and career preparation.
The plaque to commemorate Kluding's efforts was engraved with the words, "We are grateful for your faith and vision in FCCLA, your understanding of our goals, and your untiring efforts on behalf of the youth of this state."
Kluding has mentored scores of students through FCCLA career-related projects, competitions against students from other career centers, and leadership activities. The goal is to help prepare her students for a successful career but many of her students have won college scholarships through their participation in FCCLA.