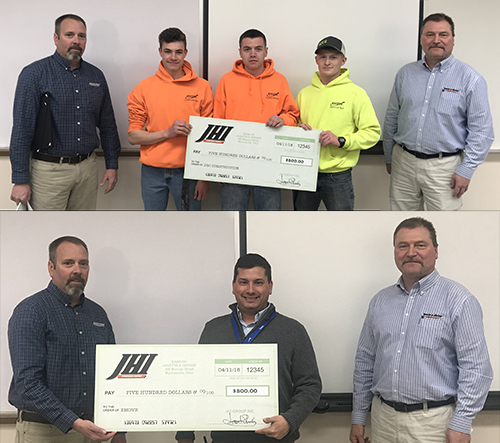 Real Work, Real Value
Kendra Ward
Wednesday, September 11, 2019
Janotta & Herner is a key partner in helping EHOVE Construction Tech and Electrical Tech students learn the importance of planning, organizing and creating a budget for a construction project. For the fifth consecutive year, the company conducted a competition where the students worked as teams to create a realistic bid for a building project. Each team was challenged to include real detail about supplies, pricing and timeframe and much more, while also presenting the bid in a professional, quality manner.
Janotta & Herner representatives judged the bids on everything from accuracy and how they were organized to proper pricing and realistic timelines. As the need for qualified, trained workers in the trades increases, real-world projects such as these help students learn how to become good workers.
This year's winning team consisted of Construction Tech students Caden Cooper (Edison HS) and Jared Battle (Edison HS), EHOVE Electrical Tech student Dakota Doyon (New London HS).
Janotta & Herner Vice President Jason Ott and Quality Assurance Supervisor Ted Fries presented the winning team with $500 from the company for their quality efforts. In addition, the company also donated $500 to EHOVE and provided a check to Assistant Director Matt Ehrhardt.
Ott and Fries are alumni of EHOVE Class of 1989 Carpentry program (now known as Construction Tech), and noted that a large number of their staff, from laborers to management, attended EHOVE.
Describing his own experience at EHOVE, Ott discussed the importance of he was able to learn the right skills, get experience on real projects, and make professional connections, and how it all affected his career.
"You can start out at the very bottom position and work your way up. That's what we did," said Ott referring to himself and Fries. "I had a lot of hands-on experience and can apply that now in the office to know what it really takes to get the job done."
"Start by coming to work on time and working hard every day," he said. "Keep it up and you'll feel that sense of accomplishment."
Electrical Tech Instructor Vince Ragnoni thanked Janotta & Herner for providing the opportunity to the students and explained why it's so valuable. "This is great for the students. Going through the process reinforces what we teach inside the classroom because it's real world stuff."
PHOTOS (L-R):
(L-R) Janotta & Herner Quality Assurance Supervisor Ted Fries, EHOVE Construction Tech students Caden Cooper (Edison HS) and Jared Battle (Edison HS), EHOVE Electrical Tech student Dakota Doyon (New London HS) and Janotta & Herner Vice President Jason Ott
(L-R) Janotta & Herner Quality Assurance Supervisor Ted Fries, EHOVE Assistant Director Matt Ehrhardt and Janotta & Herner Vice President Jason Ott